In honor of the first day of summer (well, a day late ;), I thought I'd share you my most-favorite-ever June recipe. Because June in Oregon marks local strawberry season! We have strawberries imported year round from California, but they aren't the same.
Oregon strawberries are small, juicy and oh-so-sweet.
And, because it so happens that today is Wednesday(!), I'm linking this post up over at What I Ate Wednesday over at
Peas and Crayons
. Although, this doesn't really apply because I've actually eaten this everyday since Sunday. June only comes once a year, after all :).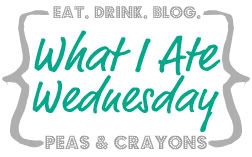 Strawberry Shortcake (aka Summer In A Bowl):
Flaky White Chocolate Shortcake Recipe:
Adapted from: Scrumptious Strawberry Shortcake
Ingredients:
2 cups

Gluten Free All-purpose Flour

½ tsp

Salt

1 Tablespoon

Baking Powder

1/2 tsp. Xantham gum

5 Tablespoons

Suga

1 stick

Frozen Butter

1 whole

Egg Beaten

½ cups

Cold Half-and-Half

1/2 cup chopped white chocolate
Directions
:
Pre-heat oven to 425 degrees.
Grate butter and put into freezer for 10 minutes.
Mix flour, salt, xantham gum, baking powder and 3 tablespoons sugar in a medium bowl. Add frozen butter to ingredients and toss to coat.
Mix egg and half-and-half; pour into flour mixture. Toss with a fork to form large clumps. Add white chocolate. With your hands, lightly press clumps into a ball.
Turn dough onto work surface; press into a 7 1/2- by 5-inch rectangle. Cut into 6 squares, placing them 1 inch apart on a baking sheet. Sprinkle dough tops with 2 tablespoons sugar. Bake until golden brown, 12 to 14 minutes. Cool 5 minutes.
Or not :).
What's your favorite *summer* dish. What's your favorite way to eat strawberries ... besides by the handful :).